Event Details
Virtual Fall Harvest Festival
At Los Luceros Historic Site
9/1/20, Tuesday through 9/30/20, Wednesday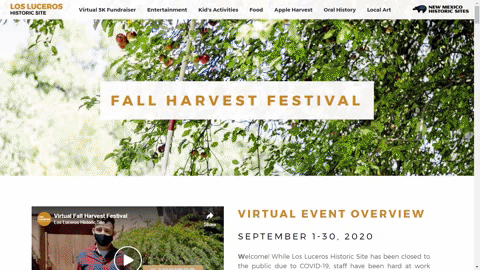 Click Here to check out the Virtual Fall Harvest Festival.
This year, in place of the annual in-person Fall Harvest Festival, Join Los Luceros Historic Site for a month-long virtual version of the event. Online festivities will occur September 1-30, 2020 at nmhistoricsites.org/harvest-fest.
A virtual 5K race fundraiser is the premier activity of this online event. We invite you to stay active this fall and support educational programs at Los Luceros. Participants can complete their 5K at any time during the month of September to receive exclusive prizes including a 3D printed medal.
This interactive virtual celebration will also include recorded performances from the Our Fair New Mexico concert series, a pie decorating competition, kid friendly craft activities, and traditional New Mexican food demonstrations. Participants can dive into the history of the apple orchards at Los Luceros through a recorded ranger-led talk and will have the opportunity to record their own histories with the "Schedule an Oral History Interview" feature.
The Virtual Vendor Market is a great place to shop for New Mexico arts and crafts or to list your own made-in-New Mexico pieces to be featured for a $5 donation.
Participate now with others across the country who are submitting their pie decorations, crafts photographs, fall recipes and stories.
A summative event announcing prize winners and sharing oral history excerpts will be held on October 1, 2020 at 6:00 PM.